A couple of PDFs have the content that belongs together. How to make one PDF file with each one included? Copy the text, paste it into Word and save it as a new PDF? Isn't it time consuming? As a matter of fact, there is a much easier way. PDF merger software makes it simple to combine files and create a cohesive one. To save your time of searching resources, I've made a list of 6 best online PDF mergers. Please continue reading the post.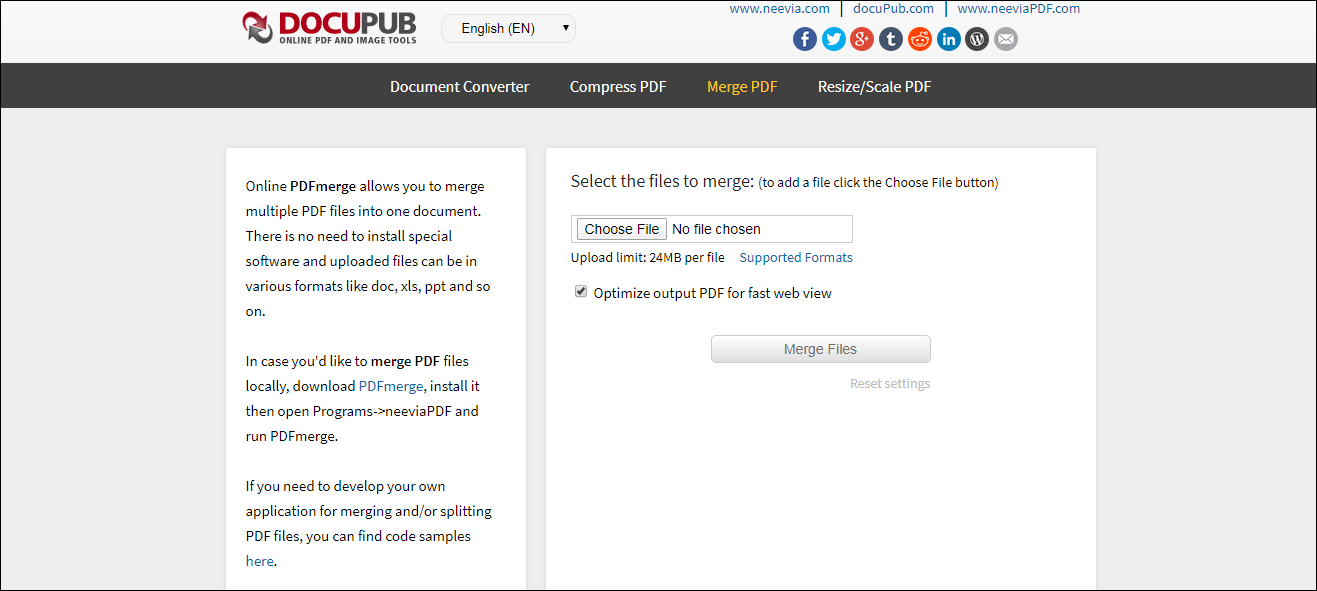 You want a seamless PDF merging process? Give DocuPub a whirl. A variety of formats for uploaded files are supported, like Word, Excel, PPT. The size for each file to upload should not be larger than 24MB. The "Optimize output PDF for fast web view" box is ticketed by default. The compression option restructures the merged PDF and makes it faster to download the file from the web server.
Upload your PDFs one by one.
When all files are uploaded, click on "Merge Files". You'll be taken to a new page when the merging process is finished.
Right click on "merged PDF" and select "Save link as" to download the output file.
By the way, DocuPub also works as a doc and image converter, PDF compressor, PDF resizing/scaling tool.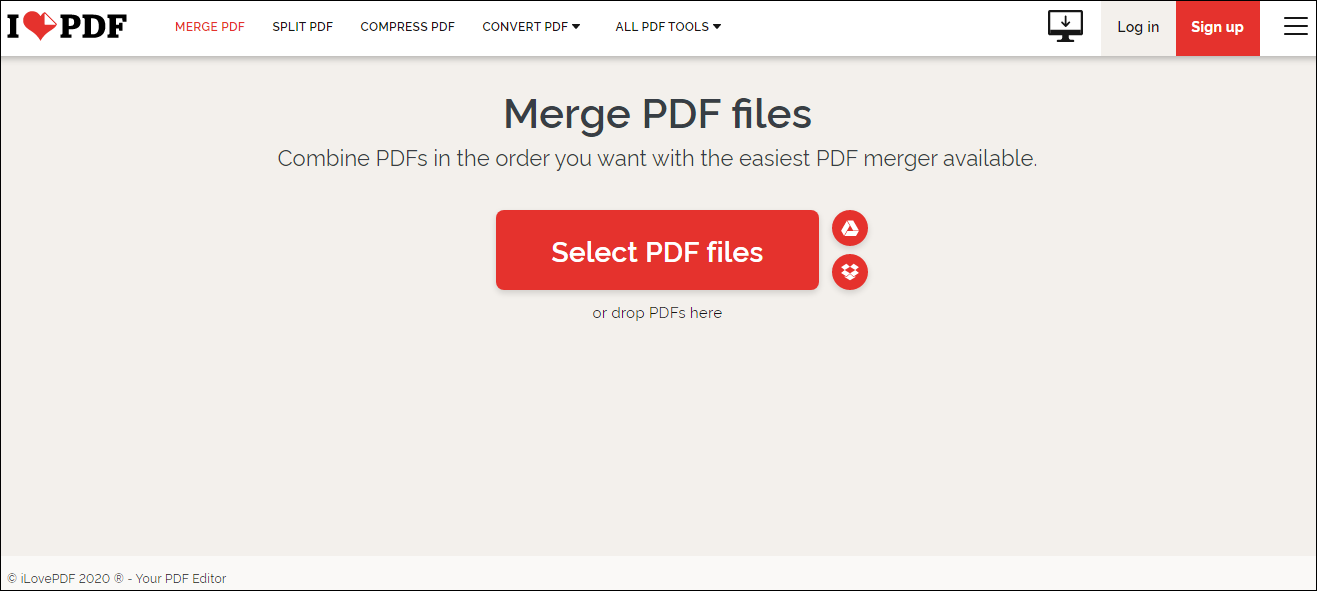 ILOVEPDF is dedicated to manipulating PDF documents in an all-round way. Here are many editing functions for you to work with PDF. You can upload local PDFs through a file browser dialog. The uploading can be made easier by a drag-and-drop action. Besides, ILOVEPDF allows you to select PDFs stored in your Google Drive or Dropbox account. It is possible to rearrange the merge order and rotate uploaded PDF. When everything is ready, click on the "Merge PDF" button. A new PDF will download as soon as the merging task is complete. Merging 25 PDFs or files in 100MB is for free use. To lift the limits, pay $6 per month and you can merge 200 files or files in 1GB.
Get caught by the name of FreePDFConvert? FreePDFConvert is indeed free for use  but imposes a high limit on you. Once successfully merging files, you have to wait 1 hour to start the next round unless you become a premium member. A premium membership charges $6/month, $50/year and $99 for life.
This browser-based app performs a seamless merging. Drag and drop your PDFs into the drop box. Rotate files and adjust the order of them if needed. It is possible to connect FreePDFConvert to Google Drive or Dropbox. You can even upload files hosted online by entering URLs. Surprisingly, the merging process will be done within seconds. A compression option right by the big orange "Download" button is likely to be ignored. You can continue to compress the output PDF to make it smaller.
All files passing through this PDF merger are secured with 256-bit encryption. What's more, the merged file will be erased from its server automatically in 3 hours. So, there should be no privacy concerns.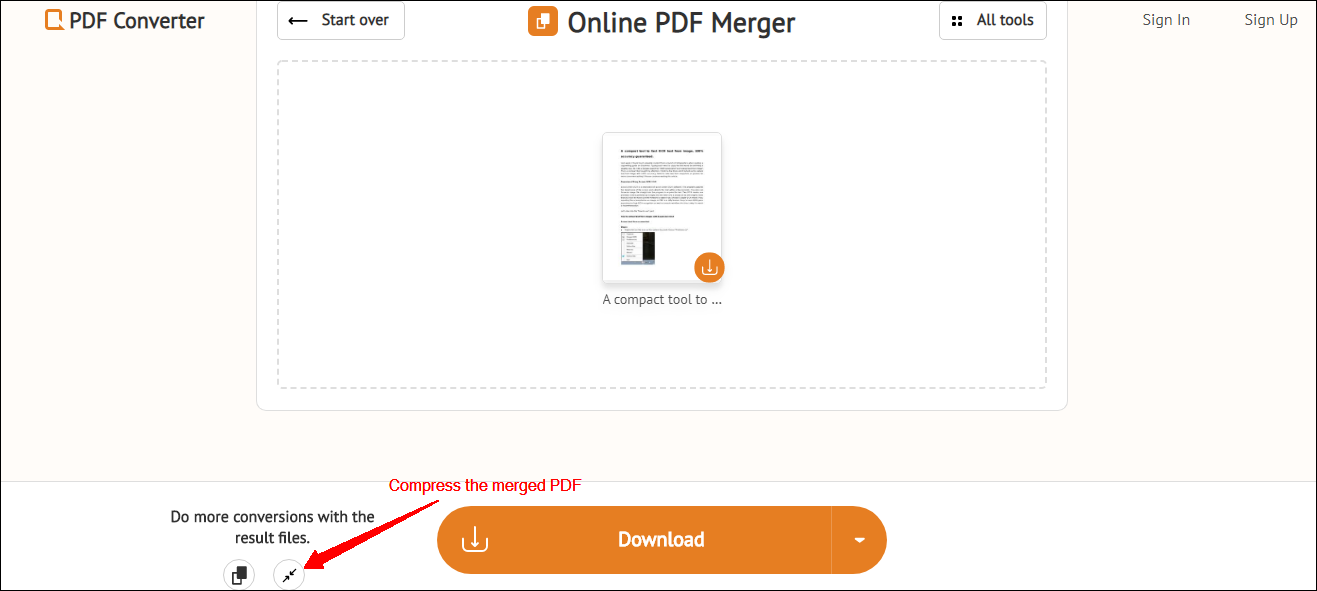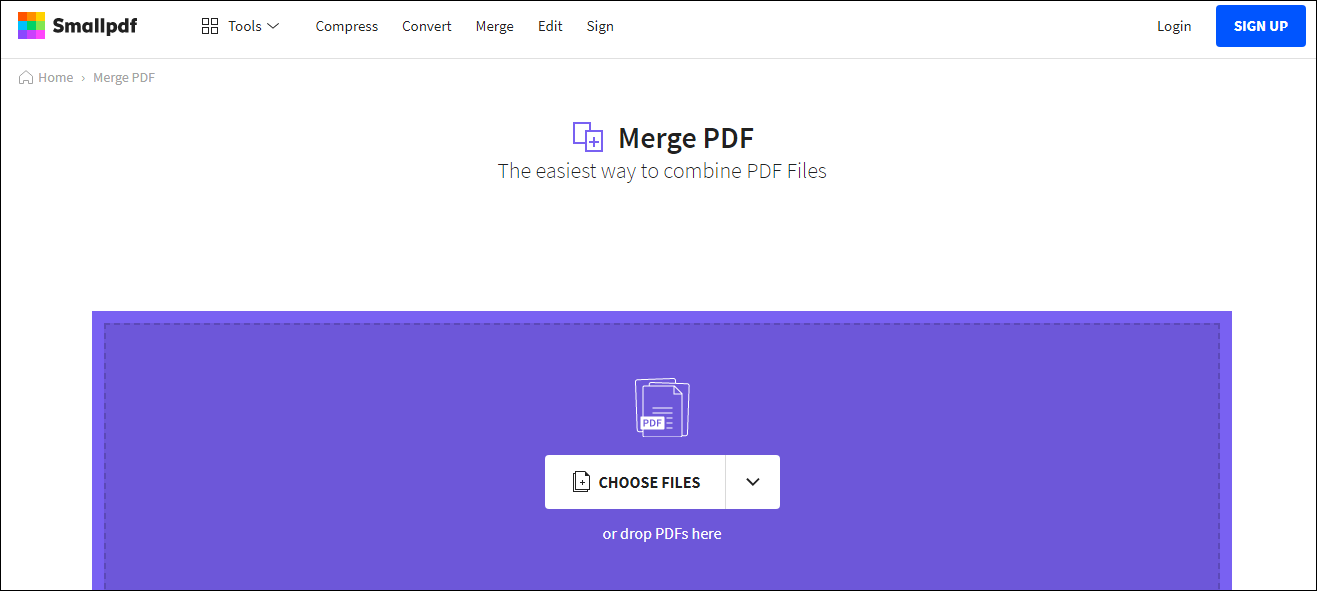 When dealing with PDF combination, the first online service that comes to my mind is Smallpdf. The app is known as providing versatile online PDF utilities. You might have tried its PDF rotator, PDF to image or Word converter, PDF splitter, and so forth. Joining PDFs to a single one simply requires a few clicks using Smallpdf.
Drag and drop selected PDFs into the rectangular box. Another way to upload PDFs is clicking on "CHOOSE FILES".
After files are uploaded to its server, we have two options here. "Merge files" lets you rearrange PDFs while "Merge pages" makes it possible to reorder individual pages in your PDFs. Deleting unwanted pages is also possible under "Page mode". Giving you the possibility to remove pages before merging is a nifty feature many other online apps do not possess.
When it's all set, click on "Merge PDF".
Download a newly merged PDF straight to your computer by pressing  the"Download File" button. Other buttons are used to send the file by email or save it to Google Drive or Dropbox.
To ensure the safety of your file data, Smallpdf will delete the uploaded PDFs as well as the generated file within 1 hour. It's important to save your merged PDF file as soon as possible. If you work with PDFs often, you may need to shell out $12 per month to access pro features such as "Merge pages".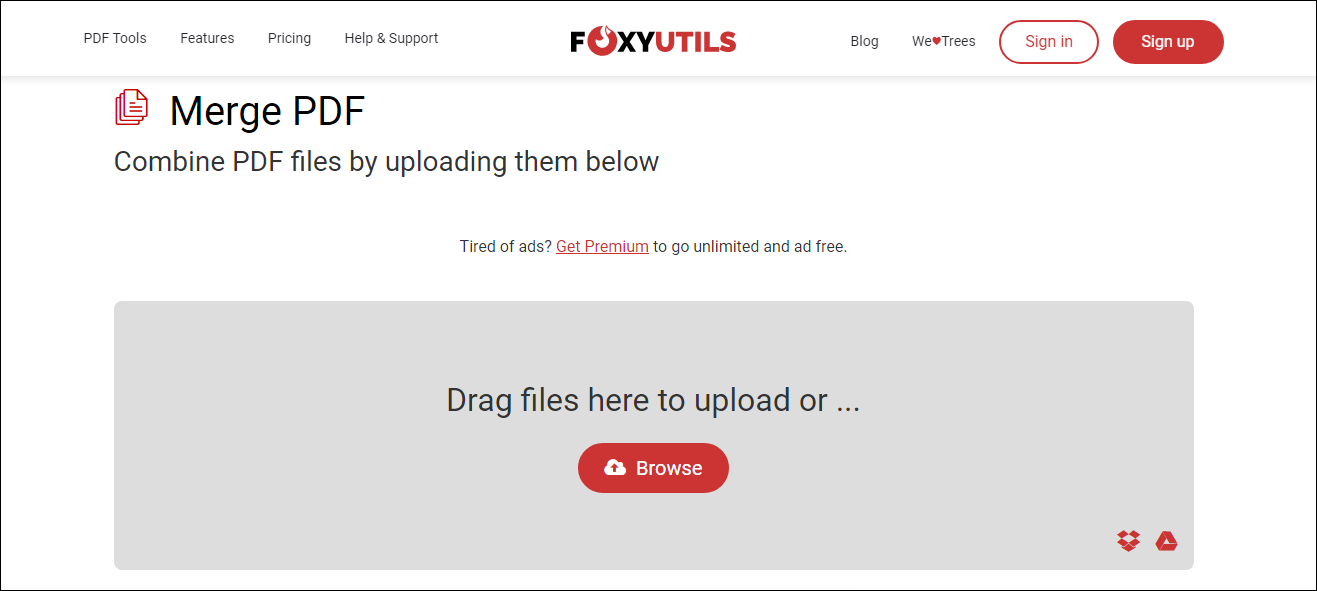 Similar to Smallpdf, FoxyUtils is a one stop shop for you to work with PDFs. As a collection of online PDF related utilities, FoxyUtils enables you to convert, edit, protect, unlock, split and merge PDF files. Merging PDFs is like a breeze due to its straightforward web interface. After uploading PDFs, you'll see the size and amount of pages for each file. Put files in a desired order, click on "Merge PDF" and the merging begins. An account is needed to process files. Please note that the free plan leaves a watermark with an ad text and link to your created file. Upgrading your free plan to a premium one is the only way to get rid of it. Apart from it, the premium subscription makes it possible to import PDFs from Dropbox or Google Drive. Pay $99 and you will be always able to access premium features as long as the website is operational.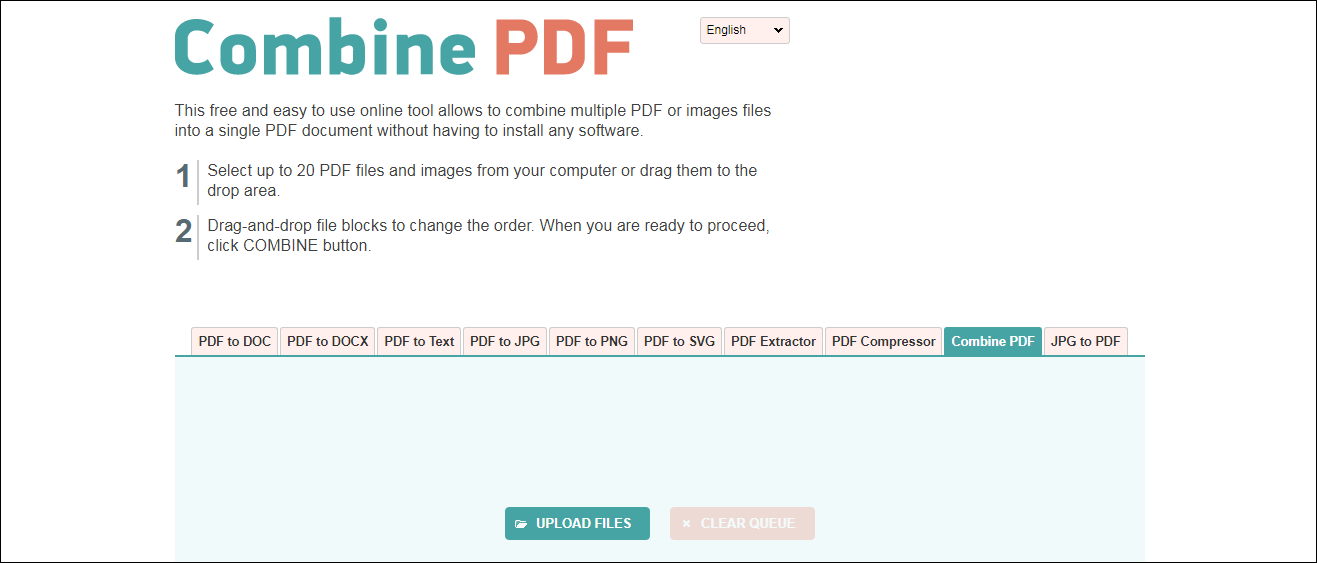 I like Combine PDF very much for its free service and ease of use. With a suggestive tile, the web-based app allows you to merge up to 20 PDFs into a new one.
Either click on "Upload PDF" or throw your files into the "Drop Your Files Here" box.
Change the order of the uploaded PDFs as you want. Click on "COMBINE".
The merged PDF document will download automatically to your computer the name of "combined.pdf".
Other services the program offers include converting PDF to Word, text, image file formats, transforming JPG to PDF, compressing PDF, extracting elements from PDF.
The online PDF joiners mentioned above are carefully handpicked. If you've integrated one of them into your workflow, let me know which one is the best for you. Perhaps you've discovered other good resources, I also would love to hear from you.
Recommended Reading
How to unlock a password protected PDF
3 ways to OCR a scanned PDF to a Word file online