It is very common that we often zoom in the photo to view a part of it. Sometimes, when the photo is zoomed in, you will find it becomes blurry. You may wonder if it is possible to zoom in the photo without compromising the clarity. The answer is yes. This is when the AI photo enlarger software programs come in. They can increase the definition of your photos and are very easy to use. I list 6 such tools to help you zoom in your photo without losing the quality in the upcoming parts of this article.
#1. AI Image Enlarger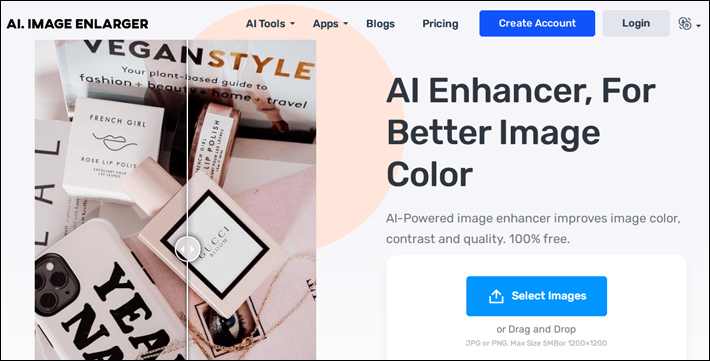 AI Image Enlarger works online to help you upscale your photo and convert your low-definition photos to high-definition ones. To use this piece of software, you need to create an account. The supported image formats are JPG and PNG. With a free account, you have 8 credits and can upload a photo of up to 5MB and 1200px*1200px. The enlargement ratios for a free account are 200% and 400%. If you upgrade your free account to a premium account, you can also enlarge your photo by 800% and the max size for the photo to be uploaded is 10MB and the max dimensions for it are 4000px*4000px. Besides, the download URL will be sent to premium account user by email.
#2. Vance AI Image Upscaler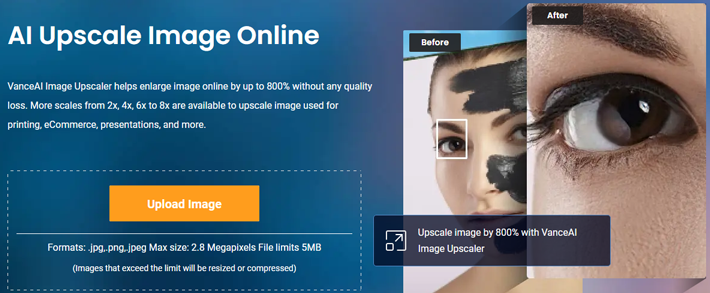 Vance AI provides nice AI products for upscaling, enhancing, sharpening, and denoising images. If you want to get photos that can be zoomed in without compromising its quality, give Vance AI Upscaler a shot. Vance AI Upscaler requires you to create an account. A free account has 3 credits per month to access the AI cloud service. For a paid account, the remaining credits can roll over up to 5x. You are allowed to enlarge photos by up to 800%.The supported image formats are JPG, PNG, and JPEG. As for the max size, the size limit is 5 MB and the pixel limit is 2.8 megapixels. If images exceed the limit, they will be compressed or resized. There are four AI models for enlarging images including "Standard", "Anime", "Art", "Anime", and "Text". Each one is designed for processing different types of images. The "Standard" model is for most pictures. The "Anime" model is for cartoon pictures. The "Art" model is for scanned images, drawings, art, and computer graphics. The "Text" model is for text-based images and photographed images. Besides, you can set the parameters of suppressing noise and remove blurring or let the app configure them automatically. The output settings enable you to choose the output format and output DPI and customize the output quality. As for the data security, processed images will be deleted in 24 hours. By the way, you can batch process images. After you have logged in the site, hover your mouse cursor over "Workspace" on the right top corner and choose "Batch processing workspace". Then, you will be directed to the batch processing workspace. Or go to the homepage and press "Start Now". By the way, Vance AI features workflow customization. A workflow integrates up to 5 AI features. Therefore, you can add other AI features into the workflow as steps before image upscaling in batch processing workspace and save the created workflow for later use. You can also create the workflow from your dashboard.
#3. Bigjpg

Bigjpg is a pretty good AI image enlarging app I often use. Its convolutional neural network reduces serration and noise in images without hampering their color and clarity. You can use this app at no cost to get watermark-free images without an account . But you can only enlarge the image by up to 4x if you don't have an account. To enlarge the image by 8x or 16x, you need to log in and upgrade your account to a paid account. The limits on the uploaded images are 3000px*3000px and 5MB. For a paid user, the limit on the size is 50MB. It is worth using its paid service to get faster and more stable performance. The image links are encrypted and all your uploaded images and enlarged images will be erased after 5 days.
#4. Let's Enhance

Let's Enhance aims to increase the image resolution up to 16x without affecting the quality. It fixes the pixelation and blur, corrects colors and lighting, and removes artifacts of JPEG images while enlarging your pictures. You have to register an account to use its cloud service. A free account has 10 credits for image processing. Please note that the processed images will be watermarked for free accounts, which is a big downside. To get images without watermarks, you need to subscribe to a paid plan. The unused credits at the end of the month on a personal paid plan can accumulate to the next month up to 6 times. The max image resolution a free plan allows to be acquired is 64 megapixels. The max image resolution allowed by a personal paid plan to be acquired is 256 megapixels. The one allowed by a business plan to be acquired is 500 megapixels. The processed images can be stored up to 6 months and there is no limit on storage space no matter what kind of your plan is.
#5. waifu2x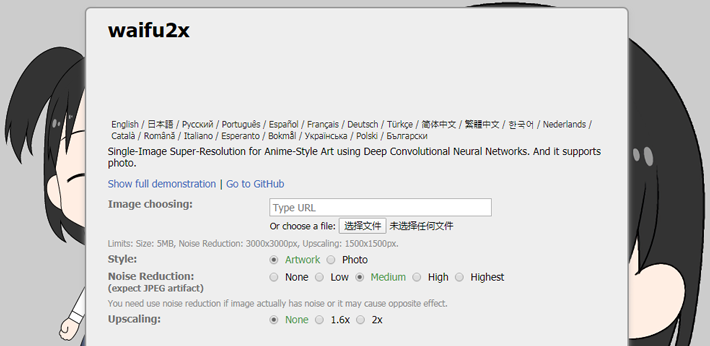 waifu2x is a web-based tool to convert low-resolution images to high-resolution images. The downside is that enlarging ratios are only 1.6x and 2x. The upside is that using this service does not require an account. It allows you to upload an image from your local drive or by the image URL. Besides, you can instruct the app which image style (artwork or photo) of your image is and set the noise reduction level. As for the max file size, you can upload an image up to 5MB.
#6. Online Image Enlarger

Online Image Enlarger is a free AI tool you can use to enlarge your photos by importing local images or online images without creating an account. It allows you to specify the zooming factor and target width and target height. The max dimensions for the input images are 4100px and 4100px. The max dimensions for the output images are 4500px and 4500px. The input image formats include JPG, PNG, and BMP. You can choose JPG or PNG as the output image format.
Conclusion
When zooming in your photo, you will find that it becomes too blurry. This is when you need AI image enlarging software. Give the brilliant tools mentioned above a shot and I believe they will solve your problem. Tell me which you like by leaving your comments below.
Recommended Reading
Top 5 free audio volume boosters
8 tools to get JPGs or PNGs from HEIC images