Nowadays, there are a growing number of smartphone and tablet users. Many of them are iPhone and iPad users. As is known to all, HEIC (High Efficiency Image Coding) has been adopted to save photos by default on iOS devices since iOS 11 was released. HEIC is a container which stores images and sound encoded with HEVC. Compared with JPEG and PNG, HEIC stores the same amount of data in a much smaller size. This is a great advantage over traditional image formats. But each coin has two sides, HEIC also has a downside, which is its compatibility. This format is not supported by many platforms like Windows computers and Android phones. There are no software programs to view HEIC images on Android systems and many versions of Windows operating systems. If you want to open HEIC images on Windows PC, Android phones, and Android tablets, you need to use a tool to change HEIC to JPG or PNG. I will walk you through 5 tools that handle this task in the upcoming parts of this article.
#1. HEICtoJPEG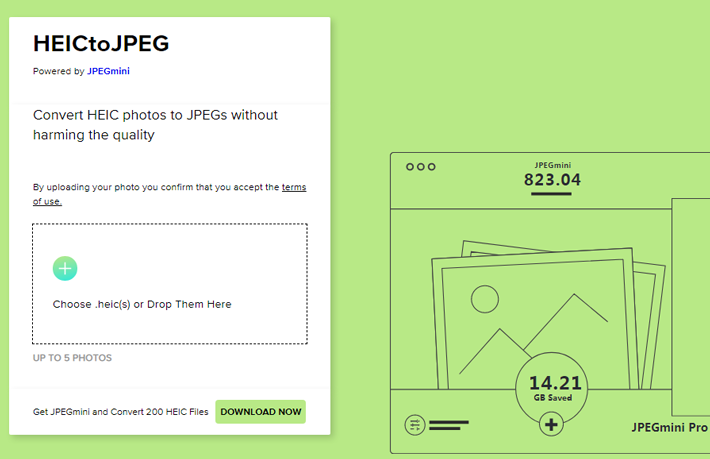 With a suggestive name, HEICtoJPEG is an user-friendly online tool that is designed specifically for getting JPEGs from HEICs. It is free to use and as you can see, no registration is required. This web-based HEIC to JPEG converter supports batch converting HEIC images. You can convert 5 photos simultaneously. HEICtoJPEG assures you that the photo quality won't be harmed during the conversion. I don't find the claim about data storing made by HEICtoJPEG. Therefore, it is not sure whether your files will be removed from its server. Drag and drop your HEIC image onto the working area. Your HEIC image will be uploaded and converted automatically. Once the conversion is finished, you will see a blue "DOWNLOAD" button. Press this button and the JPEG image will be saved to your hard drive.
#2. FonePaw Free HEIC Converter

FonePaw Free HEIC Converter is a piece of desktop application to transform HEIC photos into PNG and JPG images. This app does not require any license code and performs a very fast conversion. There are two versions of this app, Win version and Mac version. The batch mode is supported. You can convert HEIC files one by one or all of them at the same time. What's worth mentioning is that you are allowed to adjust the quality for the output image and decide to keep the EXIF data or not. The official suggests you set the quality to more than 85% so that the quality of the converted JPGs or PNGs will not be compromised.
#3. Aiseesoft HEIC Converter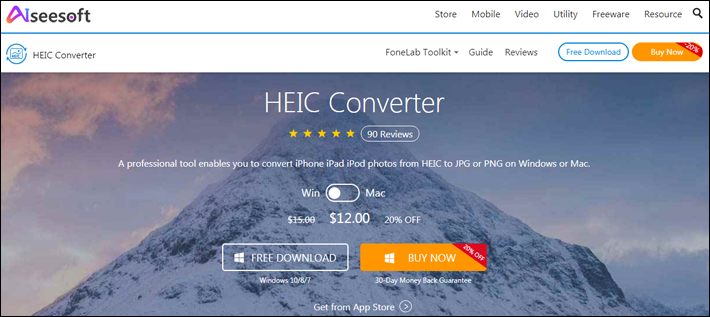 Aiseesoft HEIC Converter is a piece of commercial software, helping you obtain images in PNG and JPEG/JPG from HEIC photos, providing a super fast converting process. Like FonePaw HEIC Converter, it is developed for Windows platform and Mac platform. It is capable of batch converting multiple HEIC photos and does not place a limit on how many files can be processed at the same time. Besides, it lets you customize the quality of JPG or PNG and keep the EXIF data or not based on your need. You can convert 10 HEIC files using the free trial version. The paid version costs $22.8 for one lifetime license.
#4. WALTR HEIC Converter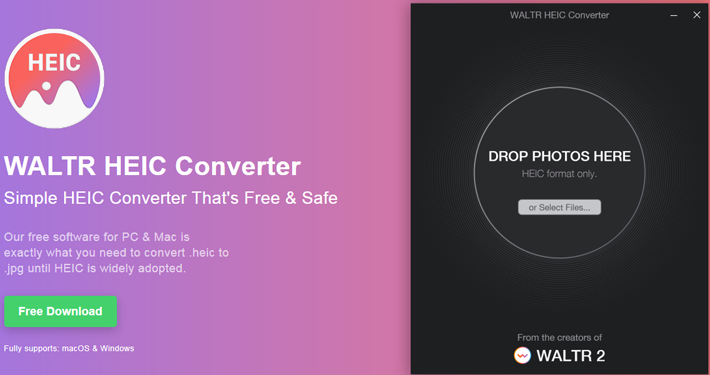 WALTR HEIC Converter is a simple free app to convert .heic to .jpg. It is made extremely easy for users to convert HEIC photos on computer. Drag and drop the HEIC files into the program. Choose JPG or PNG as the output format. Hit the "Convert" button and the app will turn HEIC files into JPGs and PNGs within seconds. There are no limitation on the number of photos allowed to be converted at a time.
#5. FreeToolOnline

FreeToolOnline is another online HEIC to JPG converter. It enables you to batch convert HEIC photos to JPG images and PDFs and up to 5000 HEIC files are allowed to be uploaded. Open the "Settings" option on the right corner of the webpage and you can tweak some settings. You can let the AI of FreeToolOnline determine the best compression level for the output JPEG or manually set the specific compression rate. You can choose to include the EXIF data in the exported JPEG or not. This online app is free to use and does not require you to create an account.
#6. heic.online

heic.online is a free web-based converter, which is capable of converting HEIC format to JPEG, PNG, and BMP. You can specify the output quality, set the size of the output image, and choose to remove EXIF data or not. Batch conversion is supported and you can upload up to 100 files. When the conversion is finished, you can download the converted files or save them to Google Drive or Dropbox. You need to note that the converted files will be erased from the server of heic.online in one hour.
#7. Vertexshare HEIC File Converter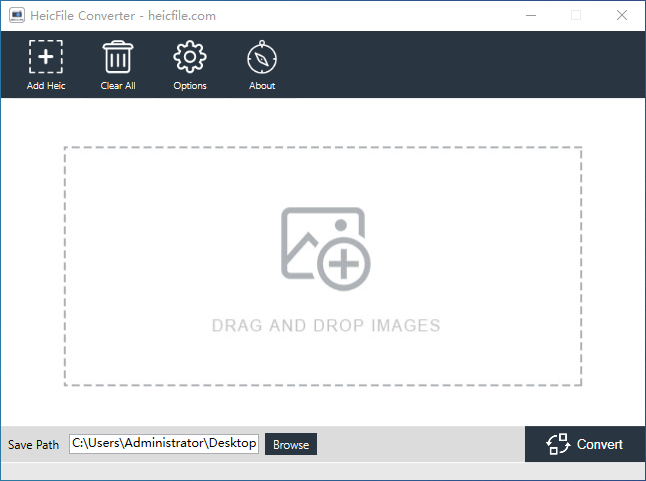 Vertexshare HEIC File Converter is a small application made for converting HEIC images to JPGs, PNGs, and PDFs on Windows. It takes less than 20MB after it is installed onto your Window system. This app is totally free to use and supports batch converting as many files as you want. The conversion is performed on your computer and no files will be uploaded. So, you are assured that data breaches won't happen.
#8. Vertexshare Command Line Converter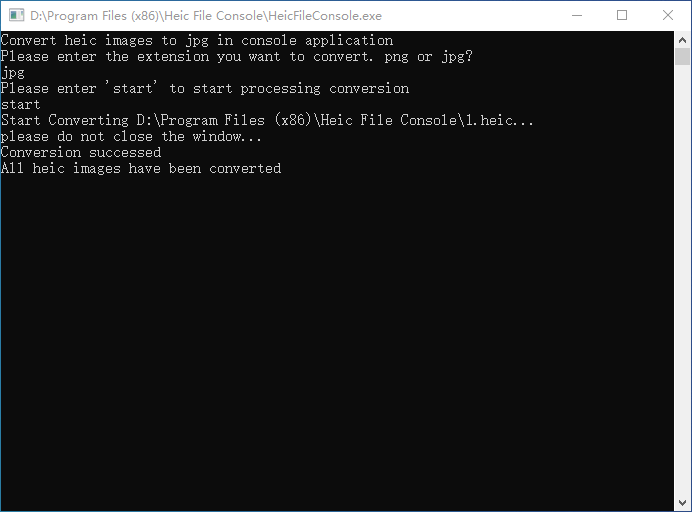 Go to the official site of Vertexshare HEIC File Converter, scroll down the webpage, and you will find an introduction to a command line tool. This tool is Vertexshare Command Line Converter, which is provided by Vertexshare for users to convert HEIC to PNG and JPG for free. Download the command line package. Extract the files in the ZIP archive to a folder. Put your HEIC photos in the folder where the files from the ZIP archive are stored. Run the "HeicFileConsole.exe" file and a CMD window will open. Enter "jpg" or "png" as the output format and press the "Enter" key from your keyboard. Enter "start" and press the "Enter" key. The program will start converting all your HEIC photos into JPGs or PNGs. When the conversion is done, you will find the JPGs or PNGs are in the same folder as the HEIC files.
Save photos taken on iPhone as JPEGs
As an iPhone user, you can let your friends, who receive your photos, to avoid the compatibility issue of HEIC. That is to turn off the HEIC Efficiency mode to save photos taken on iPhone as JPEGs. Tap "Settings"->"Camera"->"Format" and select "Most Compatible".
Open HEIC files on Windows 10
Perhaps you don't know that Microsoft provides a solution to open .heic photos on Windows 10. This solution is to install "HEIF Image Extensions" and "HEVC Video Extensions" from Microsoft Store. Please note that if you only want to open HEIC photos, you have to install "HEVC Video Extensions". Because "HEIF Image Extensions" only offers the support to the structure of .heic images but does not contain HEVC decoder and encoder. "HEIF Image Extensions" is free and "HEVC Video Extensions" costs one dollar.
Conclusion
iPhone or iPad with iOS 11 or the version above it saves the taken photo as HEIC format by default. HEIC takes less space while keeping good image quality. But the era of JPEG and PNG is not dying out because of the compatibility problem of HEIC. HEIC can't be viewed on old iOS, macOS, Windows, and Android and a lot of users can't conveniently view HEIC photos. This is when the 8 software tools mentioned previously come in. Give them a shot and you won't be disappointed. If you like this article, share it with your friends.
Recommended Reading
Top 5 free audio volume boosters
3 apps to raise the volume of a video or an audio
4 tools to help you frame your photo
Top 8 online WebP to PNG or JPG converters for free