WebP format has been used by more and more sites since it was introduced by Google. This format applies both lossy compression and lossless compression and renders the image in high quality with smaller size. It boosts the website loading speed and consumes less bandwidth. When you get an image from a site, the extension of the image is possibly .webp. A WebP image will put you into inconvenience. You can't open it with the default image viewing app like Windows Photo Viewer. The WebP file can't be imported into Photoshop. It is impossible to insert a .webp file into a Word 2007 file. Therefore, you need to convert a WebP file to a JPG or PNG. In this article, I list 8 best free online WebP converters that convert WebP to PNG or JPG in a flash.
Related Article: How to open a WebP file in Photoshop and Photo Viewer
#6. Vertexshare WebP Converter Online
#1. Online-Convert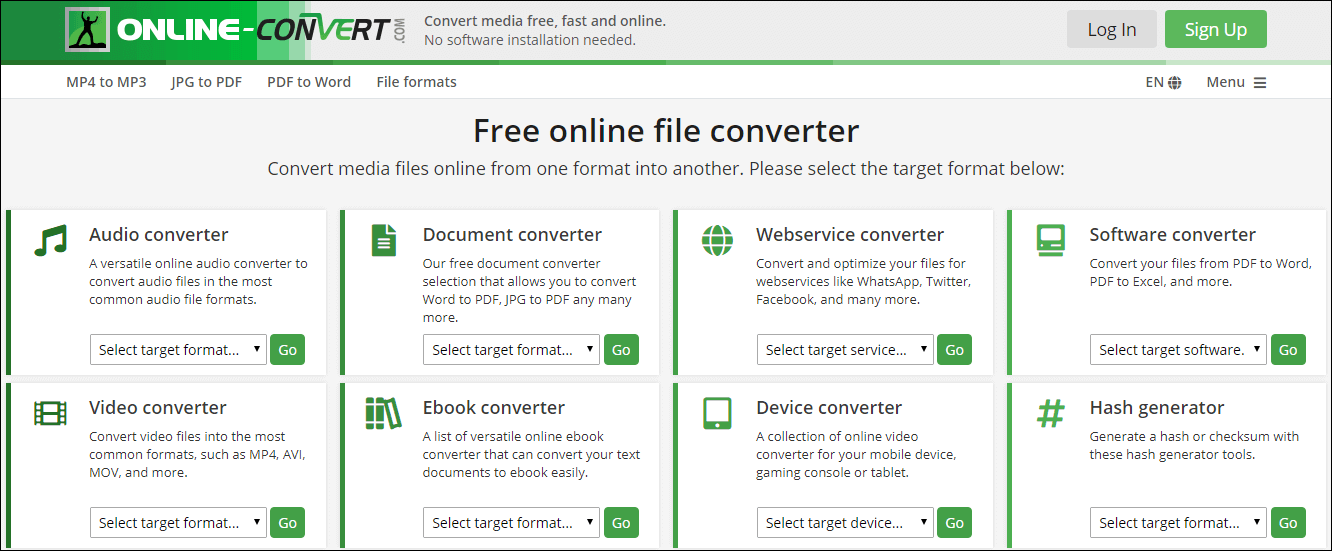 Online-Convert is a comprehensive platform where you can find all kinds of file converters. The file types for conversion include document, image, archive, audio, video, and eBook.
Below are some features of this powerful online file converting app.
It enables you to convert your video to device-specific formats that can be played on Android devices, iPhone, iPad, iPod, Blackberry, PSP, Playstation, and so on.
It lets you specify the output quality before starting the conversion.
You can crop pixels, manage the DPI, resize the image and convert the colored image to monochrome or grayscale.
Bulk converting files is supported.
Without further ado, let's see how to convert WebP to JPG on Online-Convert.com
Navigate to the section "Image converter" on the homepage.
Select "Convert to JPG" in the drop-down menu and click on "Go".
Drop your WebP file into the drop box and the file uploading begins immediately.
Tweak the settings and press "Start conversion".
Click on "Download" to download the JPG file. You can also click on "Cloud Upload" to upload the image to your cloud storage.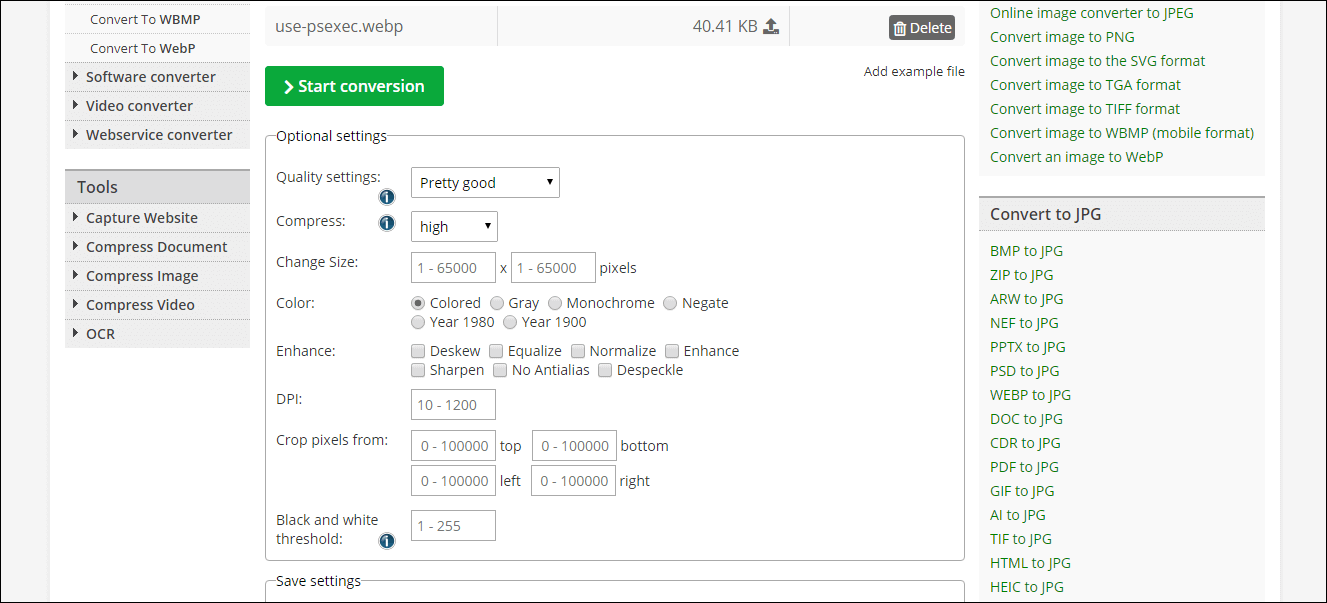 #2. WebPtoPNG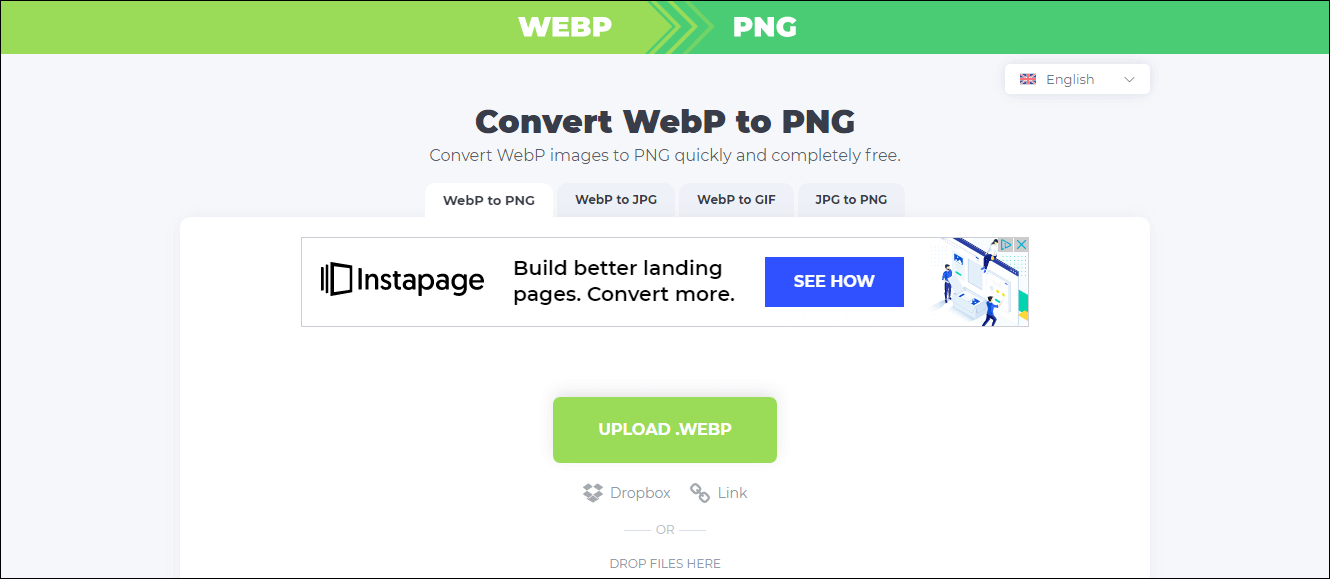 As the name suggests, WebPtoPNG specializes in converting WebP to PNG. It accepts the source file from your computer, Dropbox or URL. It allows converting WebP files to PNG images in batch. Upload your WebP files through the file browser or by the drag-n-drop action. Press the "CONVERT ALL" button and wait for all files to be converted. When the conversion is complete, click on "DOWNLOAD ALL" to download all PNG images grouped in a ZIP archive.
WebPtoPNG associates with another two WebP converters: WebPtoJPG and WebPtoGIF. Click on "WebP to PNG" or 'WebP to GIF" and you'll be directed to the corresponding site. There you can quickly change WebP to JPG or convert animated WebP images to GIF format.
#3. Aconvert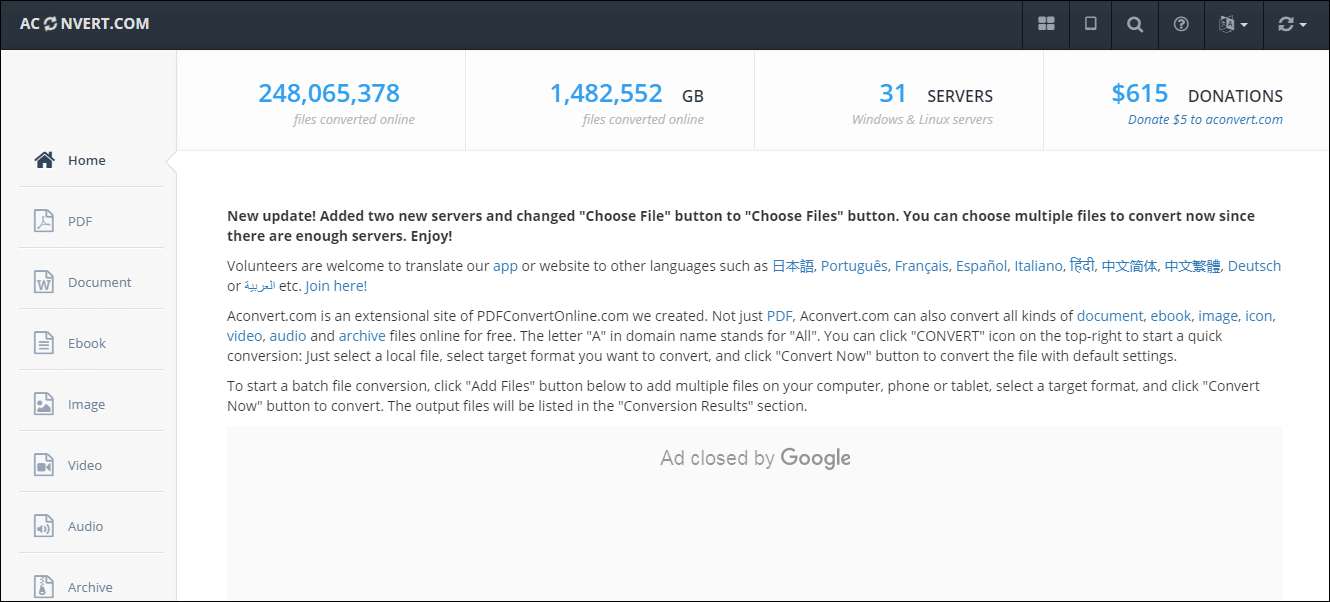 Aconvert is another versatile web-based app that converts various file types like video, audio, archive, document, and image. Like WebPtoPNG and Online-Convert, Aconvert allows you to process multiple files simultaneously. You can upload up to 10 files at a time. The size of each uploaded file can't exceed 40MB. Click on "Add Files" to upload your WebP file. Select "PNG" or "JPG" in the "Target" box. Press "Convert Now" to begin the conversion. When the conversion is done, you will see the output file. Right-click on the output file and select "Save link as" to save the output PNG or JPG to your hard drive.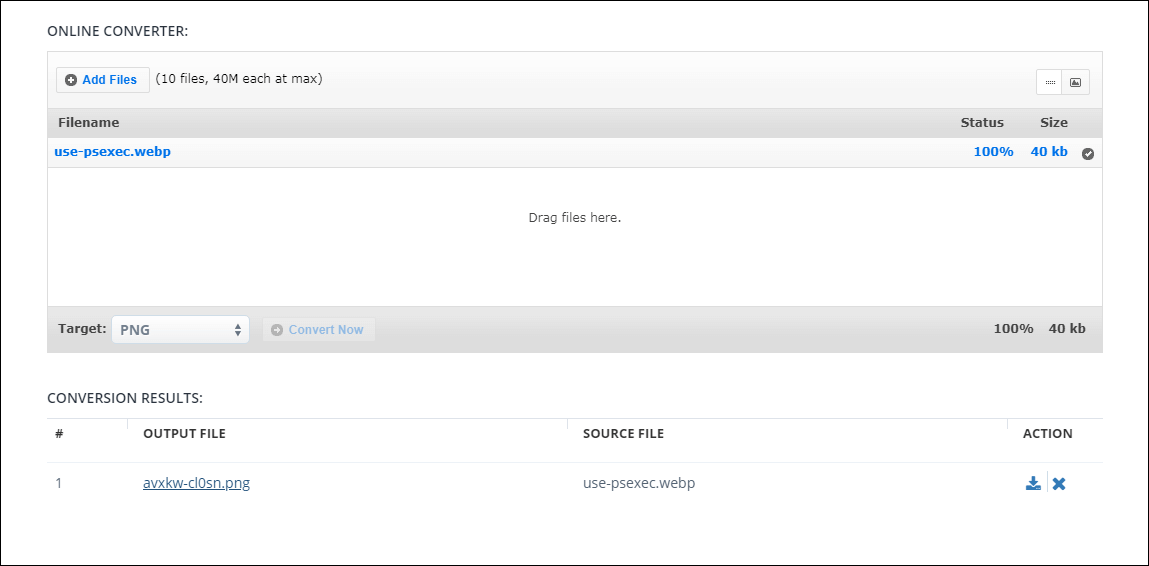 #4. Speedpdf

As the name suggests, Speedpdf speeds up your productivity in PDF processing. It offers a collection of PDF-related utilities like PDF to/from Word, Excel, PPT, JPG converters, PDF unlocker, PDF splitter, PDF Compressor, and PDF encrypter. Besides, it provides you with a free converter to transform WebP to PNG or JPEG. You can expect a super fast conversion. Please note that you have to register and sign in in order to use the services of Speedpdf.
Select the option "WEBP to JPEG" and you will be taken to a new page.
Choose one tab from "WEBP to JPG" and "WEBP to PNG". Click on "CHOOSE FILES" to add your file or drag and drop it onto the working space. SpeedPDF also allows you to upload the source file from Google Drive or Dropbox.
Click on "Convert" to start the conversion.
When the conversion is done, click on the tiny "Download" button and a dialog pops up. Press "DOWNLOAD JPEG" or "DOWNLOAD PNG" to get the JPEG or PNG file.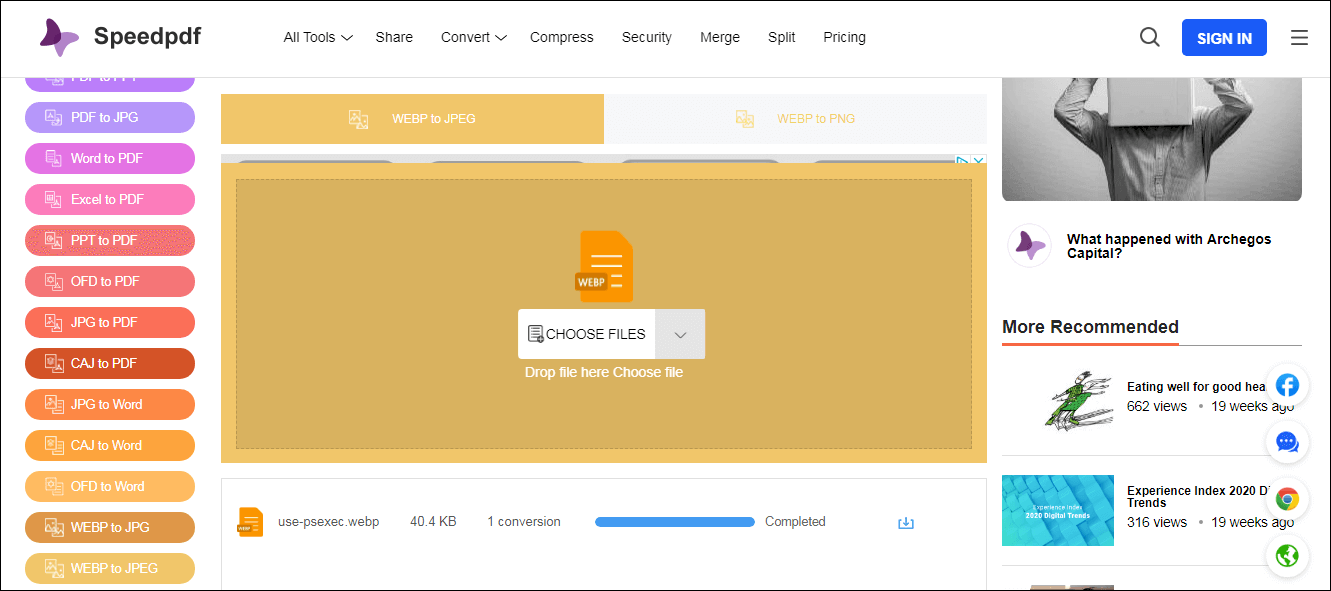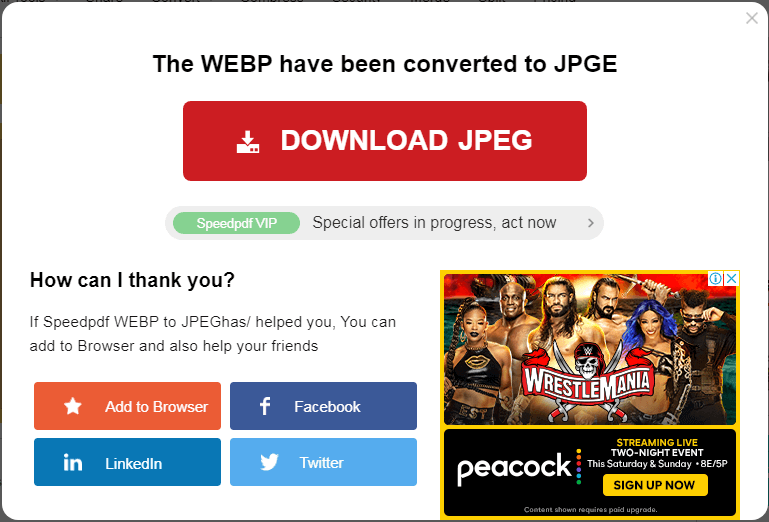 #5. FreeConvert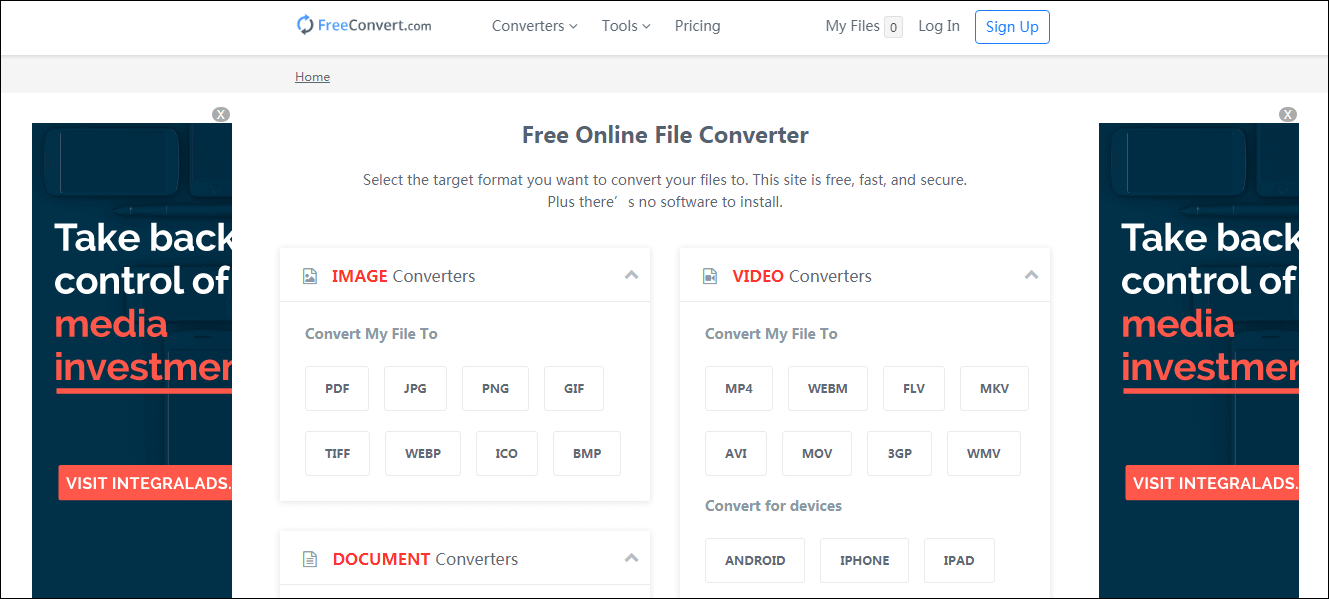 FreeConvert is a free online file conversion site where you can convert images, videos, documents and audios from one format to another. It claims to support over 500 file formats. FreeConvert accepts nearly all image formats and exports images as PDF, JPG, PNG, GIF, TIFF, WEBP, ICO, and BMP. To protect your privacy, all uploaded images will be removed from its server. It's worth mentioning that you are allowed to adjust advanced settings. You can specify the quality of the output image, set the compression level, and resize the output image.
Go to the pane "IMAGE Converters" and select "PNG" as the target format.
Throw your WebP file onto the working area or click on "Choose Files" to upload the file.

Click on the "Gear" button and the "Advanced Options" panel shows up.
Configure settings as you want and press "Apply Settings".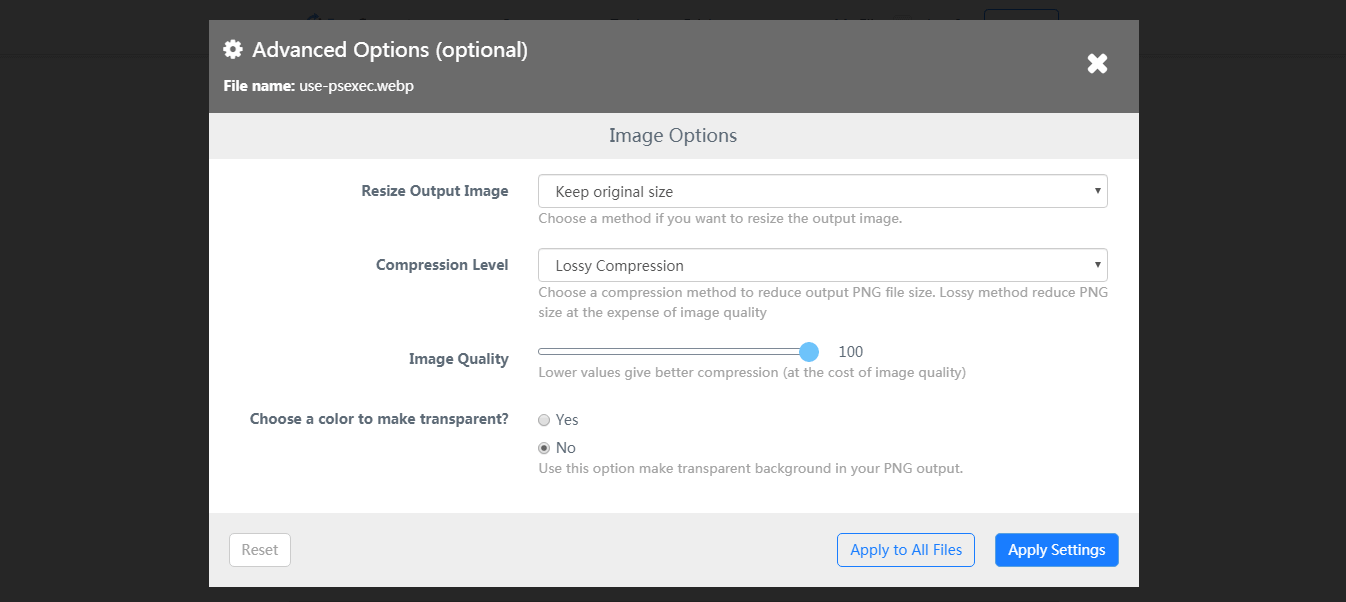 Click on the "Convert To PNG" button to initiate the conversion.
Download the PNG file to your computer. You can also save the PNG file to your Dropbox or Google Drive account.

#6. Vertexshare WebP Converter Online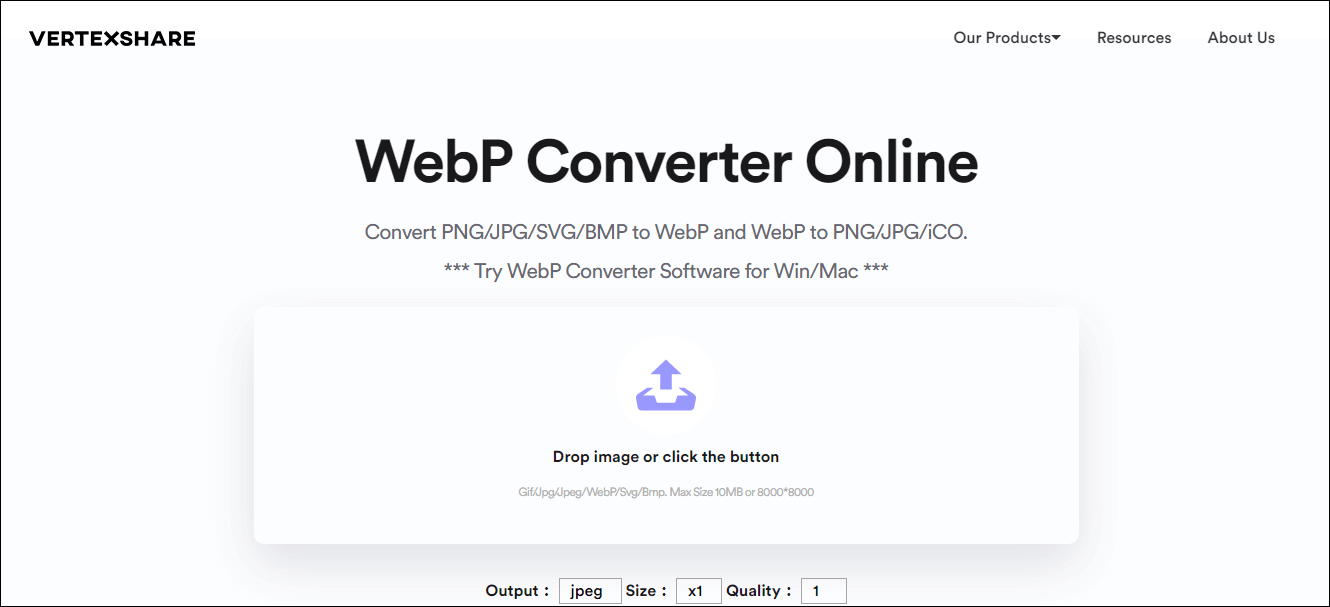 Vertexshare WebP Converter Online is a newly released browser-based app that performs the conversion between WebP and PNG/JPG/SVG/BMP/iCO. Believe it or not, you don't need to upload your image to the server for the conversion. In other words, you can import the file into the app without internet connection. Is it amazing, right? Another thing that is worthy of mention is that the app lets you fine-tune the size and quality of the output image. Drag and drop your WebP image and select PNG or JPG as the export format. Press "Start" to start converting the WebP image. When the conversion is finished, the PNG or JPG file will be instantaneously downloaded to your hard drive.
#7. iLoveIMG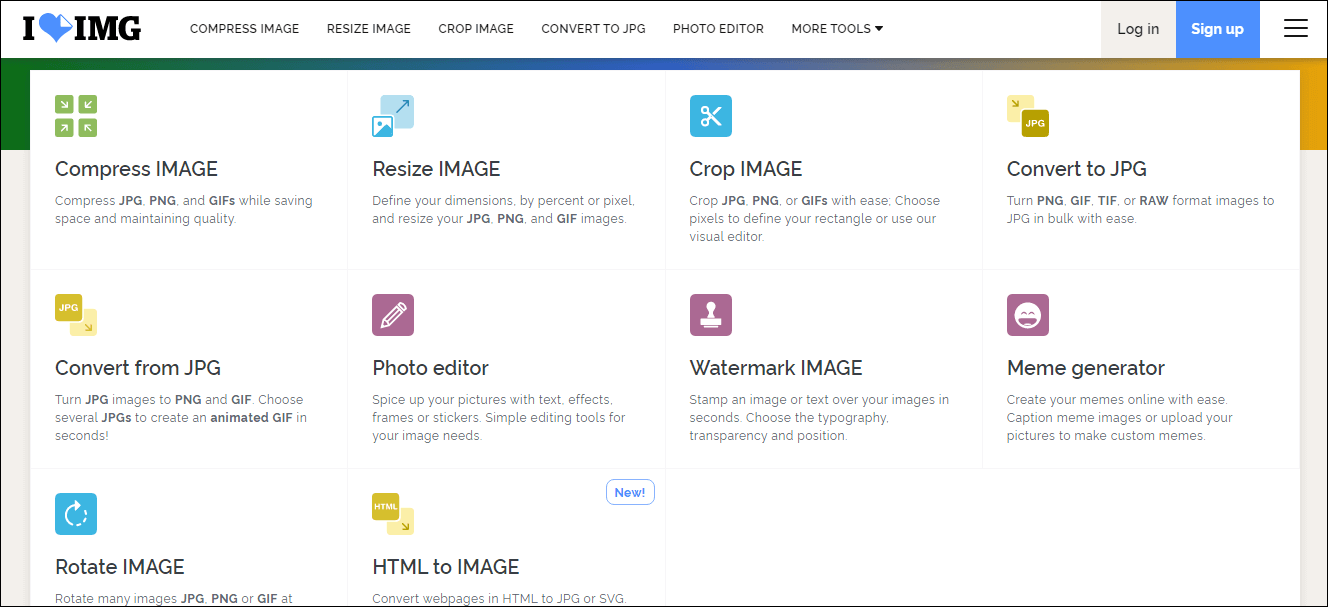 iLoveIMG is a website where you can find almost all tools you want to manipulate your image. For example, you can reduce the image size, spice up your image with stickers, effects and frames, watermark the image, and turn PNG, GIF, TIF SVG, WEBP or RAW to JPG.
Select "Convert to JPG"
Click on "Select images" to upload your WebP image.
Press "Convert to JPG" and the conversion will be done within a few seconds.
Press "Download converted images" to obtain your JPG file.
#8. Convertio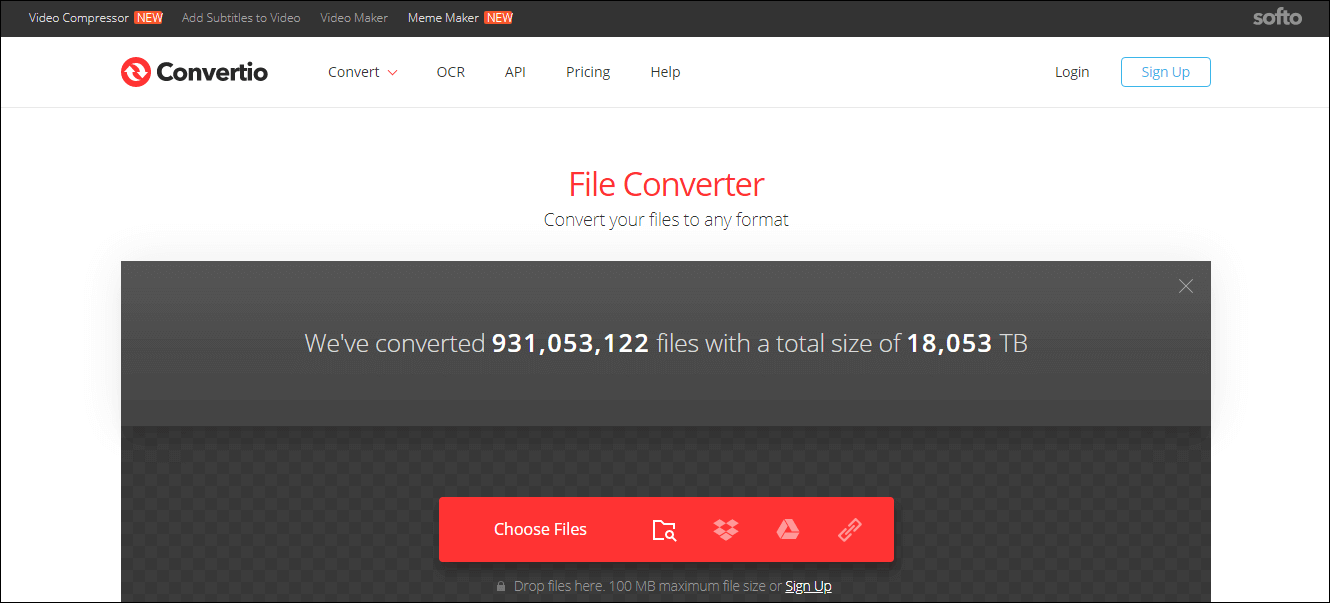 Convertio is a very popular file converter, providing free services for video/audio/image/document/archive/eBook/presentation conversion. It supports over 25600 conversions between more than 300 different file formats. To keep your file safe, the converted files will be deleted after 24 hours. Click on "Choose Files", select your WebP file, and open it. Choose PNG or JPG as the output image format. Then, press the "Convert" button. Your file will be uploaded to the server and then converted to the desired format. Press the blue "Download" button to download the file.

Do you have WebP images and want to turn them to a common image format? If so, all you need is a WebP to JPG or PNG converter. The 8 best WebP converters online mentioned above are able to help you get the job done. Give them a shot and tell me which one you prefer by leaving a comment below.
Recommended Reading
8 tools to get JPGs or PNGs from HEIC images
Top 5 free audio volume boosters
4 tools to help you frame your photo